Jesus Himself Identified and warned us of Who is going to be Against His Mission!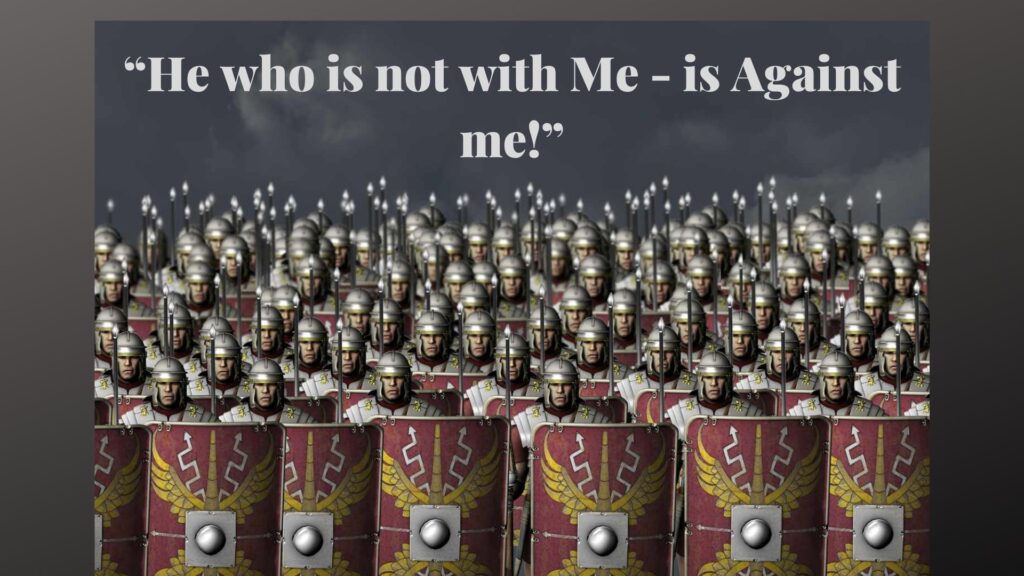 "Whoever is not with me is against me, and whoever does not gather with me scatters.

Matthew 12:30
A. It is the CHURCH that is Working Against the MISSION OF GOD!
JESUS spoke this in the context of Spiritual Warfare – When He said about binding the Strongman to advance the Kingdom.
He wanted His Disciples to be fully committed to the task of advancing His Kingdom to unconquered territory and to take the spoils of the enemy which are the precious souls of lost people. He warned that a 'kingdom divided' in its objectives and purposes will not stand!
The word used for 'gathering' is taken from the Greek word used for 'gathering fish' from a net, and the word 'scatter' is a military term when the spoils of war are scattered. Whenever we fail to contribute to the advancement of His Mission, we are actually working 'against' Him!
JESUS saw the lost World as a great Harvest Field and Commissioned Us:
"The harvest is plentiful but the workers are few. Ask the Lord of the harvest, therefore, to send out workers into his harvest field." Matthew 9:37-38
"I tell you, open your eyes and look at the fields! They are ripe for harvest."
"I sent you to reap what you have not worked for. Others have done the hard work, and you have reaped the benefits of their labor." John 4: 35, 38.
If you are NOT involved in His Mission of Gathering the Global Harvest, You are against Him!
Any church that is NOT committed to His Mission of Sending Laborers to the Harvest is Scattering His harvest.
There is NO neutral ground when it comes to Missions: Either you are involved, or you are working

AGAINST

it!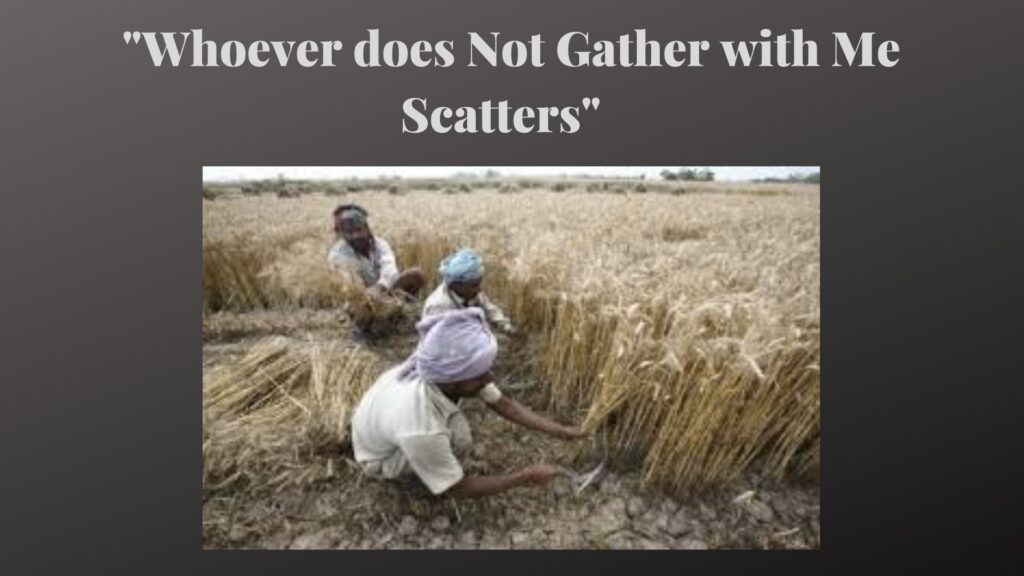 B. How is the Church seen as an Opposing Army?
When we compare the statistics:
2 Billion Soldiers –

There are over 2.43 Billion Christians globally

.
Global Operation with 40,000 Operational Headquarters –

40,000 Denominations and Christian Organizations.

Over 3 Million Fighting Units operating in over 3 million bases and Camps established in every Nation and human habitation.


There are 3 Million Churches, meant to be bases for sending Missionaries to every Nation of the World.

14 million Commanders, Principalities, and Rulers leading these units –

There are 14 Million Pastors and Workers globally.

Special Operations Units of 240,000 –

There are 240,000 Missionaries working globally

.
An Annual Budget of 57,000 Billion Dollars for Global Operations –

Total earnings of Christians globally are around 57 Trillion Dollars!

A long-term strategy for Training and Equipping having bases in every Continent.
There are thousands of Bible Colleges and Training centers producing workers primarily for ministry inside the Church.
They have a history of nearly 2000 years of opposing the Great Commission.


By not having Missions as the Priority and as the Reason for Existence,

the Church has delayed and hindered the fulfillment of the Great Commission.
If Jesus started His Global Mission with the 12 Disciples, how much more can this Army do to accomplish in this 21st Century?
PRAYER:

Lord Jesus, You intended your Church to be the mightiest Army on earth advancing your Kingdom to the Nations. You had full confidence that nothing can stop their advance and even the 'gates of Hell' will not stand against it! However, our armies had stayed too long inside the camps enjoying the benefits and pleasures of your Blessings forgetting to be engaged in your Mission.
Awaken Your Church to fulfill Your Mission on earth by saving humanity, so that 'non should perish' but all should come to Salvation.
We Pray that the Church will hasten Your coming by having a sense of urgency about Missions. That this will also hasten the ultimate judgment of Satan and his armies.

Amen.
C. How does the Church work Against God's Mission and Scatter the Harvest?
Do you know that the Church from its inception often opposed the Mission of God?
The exclusivity in the Jewish Church in Jerusalem opposed the Gospel going to Gentiles because Peter went to Cornelius. The first Jerusalem Council was called to restrict the missionary work of Antioch Church to Gentiles. (Acts 15:1,2, 5). Under Constantine, although the Church was freed from persecution, it was enslaved by institutionalized structures and hierarchy causing the flame of evangelization to diminish for centuries . Even Luther's Reformation was dedicated primarily to preserving the Truth instead of proclaiming it, and did not send a single missionary for 200 years. The Reformers also propagated the doctrine of election and thus totally condemned the 'Heathen Nations' to hell denying them the Gospel. The modern Church is equally self-absorbed with the status quo, and is opposed to Missions by their attitude and lack of concern towards Missionary Sending. (See statistics about Sending)
With such minimum involvement in World Evangelization and a dismal attitude towards Missionary Sending, the majority of the Church today is no different from their historical counterparts; as Jesus rebuked the Pharisees saying:
"And you say, 'If we had lived in the days of our ancestors, we would not have taken part with them in shedding the blood of the prophets.' So you testify against yourselves that you are the descendants of those who murdered the prophets".

Matthew 23:30-31
This is reflected in the Church today in Areas of:
Priority – Missions not given the Priority as other areas are given.
Focus – Not being outward focused, but inward-focused.
Personnel – Large number of workers involved in local church compared to Missionaries sent.
Sending – How many sent to Unreached? (see the numbers sent to the Unreached People)
Resources – Most books, materials, and other resources are produced for causes other than Missions.
Prayer – Most prayer requests are on self-centered interests.
Finances – See the comparison of giving to Missions with self-absorbing church projects (see chart on giving)
Leadership Development and Training – The ratio between local ministers and missionaries is shocking.
Facilities, Equipment, and Technology – The majority of resources are directed to non-missional endeavors.

PRAYER.

Father we pray that you forgive us We have worked against your Missions through our ignorance and our attitude of indifference to your Great Commission. We have not given priority to "seeking and saving the lost" in the Nations that are not reached with the Gospel. We confess that we are no different from those who opposed your Mission in the past at the cost of maintaining our own churches and protecting our own interests.
We confess our indifference and complacency and realize that without the Missions Vision, millions have perished. We ask you to give us a fresh vision for fulfilling your Great Commission!

Amen.
D. Reverse Spiritual Warfare: Breaking Down the Internal Strongholds.
Confronting the above issues requires Spiritual Warfare, as they have been passed down generationally forming mental and spiritual strongholds. Paul spoke of Strongholds in 2 Corinthians 10, as 'high thoughts' or established thought patterns contributing to traditional ways of operating Church systems and methods. To confront these it takes more than innovation or revolution. This requires using the Spiritual Weapons which are 'mighty in God' to pull down strongholds.
We need to engage in reverse warfare first, breaking down internal fortresses, walls, and gates that have confined the Church in inward-focused captivity to prevent it from taking the Gospel to the Nations.
Before the walls of Jericho come down, the Walls of Jerusalem need to come down to release the conquering armies of the Church!
The Walls and Gates of Jerusalem Burned Down.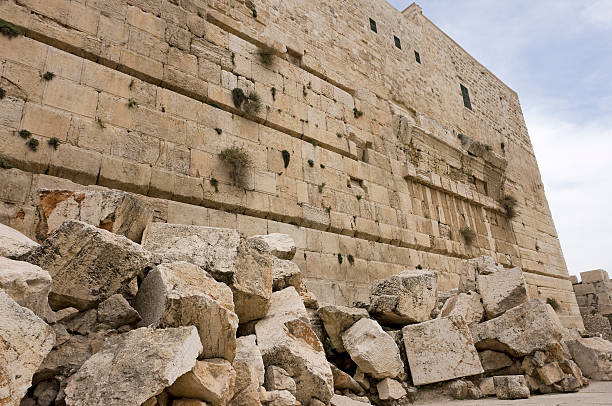 God used Babylonians to conquer Jerusalem and burn the walls down not only because of their sin but because they had failed in fulfilling their call and purpose – "TO BE A BLESSING TO ALL THE NATIONS OF THE EARTH" – fulfilling the Abrahamic Covenant of Genesis 22:18. God had to literally break down the very stronghold of their worship -Jerusalem – to disperse them to the Nations. And once they were carried out as slaves to the nations, the stories of Daniel, Nehemiah, and Esther show how Abraham's seed could be a BLESSING to nations.
Similarly, Jesus himself again predicted the Walls of Jerusalem being broken down – this time for the Church – to carry out the blessing of Abraham to all Nations and Uttermost Parts of the World!
It was in this same prophetic context that Jesus affirmed His commission:
"And this gospel of the kingdom will be preached in the whole world as a testimony to all nations, and then the end will come." (Matthew 24:14)

Thank God that He used Paul and Barnabas before that to establish a Missionary Church in Antioch to open the gates for Missionary sending!
Prayer for the Church.
As we approach Pentecost, we want you to be engaged in praying for breaking down the walls and strongholds of attitudes and perspectives of the Church which are contrary to doing Missions and the fulfillment of the Great Commission.
PRAYER.

Dear Father, We pay for your Church worldwide. You have blessed your Church and your people with 'all the spiritual blessings in Christ' and have preserved and protected it for your purposes. Now we pray that the Church will return to its original call to 'take the Gospel to all the Nations' of the earth, just as You called Abraham's seed to be a blessing to Nations.
We pray for Church Leaders and members that your Holy Spirit will bring about a great change and create a sense of urgency and responsibility to finish the Great Commissions. We know that your Church has more resources than it needs to do that. We pray for courage, faith and perseverance to break down the walls of comfort and complacency for them to take bold steps to accelerate the sending of missionaries to all the Unreached People Groups.
We declare your prophetic promise " And this gospel of the kingdom will be preached in the whole world as a testimony to all nations, and then the end will come."

This month, leading to Pentecost Sunday we will Pray for the Church each week for transformation and a fresh outpouring of the Spirit at Pentecost!
Sources:
Status of Global Christianity – Gordon Cornwell
Missions Statistics – Traveling Team
Joshua Project.