Church Planting Movement in Thailand!
We Thank You for praying for the Hindu and Buddhist World in the past 2 months.
We want to share with you a podcast and a video about what God is doing in one of the largest Buddhist nations in the World. We praise God that God is moving and we request you to continue praying for these 2 Worlds.
"Then all nations will be blessed through him, and they will call him blessed.
Praise be to the Lord God, the God of Israel, who alone does marvelous deeds.
Praise be to his glorious name forever; may the whole earth be filled with his glory.
Amen and Amen. "

Psalm 72:17-20
WATCH THIS PODCAST by Rev. Mark Durene of CHANGE THE MAP:
THE CHURCH PLANTING MOVEMENT IN THAILAND.
ALSO WATCH THIS VIDEO:
HOW 1435 THAI PEOPLE WERE BAPTIZED BY THE 'FREE IN JESUS CHRIST CHURCH' IN THAILAND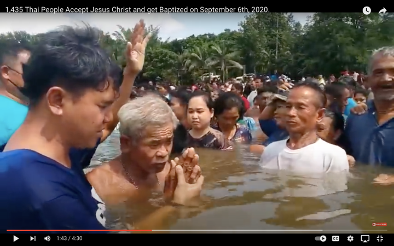 Sources: Change the Map.
Free in Jesus Christ Church in Thailand.