A War that wiped out half of the World's population!
It is said that in the very first World War half of the potential population was wiped out! This was when Cain killed his brother Abel who was righteous and innocent. Ever since then the 'Spirit of Cain' has continued to instigate animosity and murder, perpetuating wars that result in destroying innocent lives.
Civilian Casualties Today.
In any war, the first casualties are innocent civilians. There are numerous reports of civilians fleeing Ukraine to neighbouring nations as refugees, hospitals being bombed and innocent lives lost. Urgent prayer is needed for their protection as a priority and all parties involved in war should agree to this. Although the world has boasted of peace and civility, there seems no change of heart in war as it was from 80 years ago and now!
How Innocent Civilians are caught up in War.
Civilian Casualties of War:
No war can be justified because of the unspeakable suffering it will cause for innocent civilians. World War II was the biggest and deadliest war in history, sparked by the 1939 Nazi invasion of Poland, taking more lives and destroying more land and property around the globe than any previous war. Of the estimated 60-80 million people killed, civilians made up to 50-55 million, twice as much as the military.
The killing of the innocent in that proportion makes a significant parallel between Abel's murder to modern-day warfare.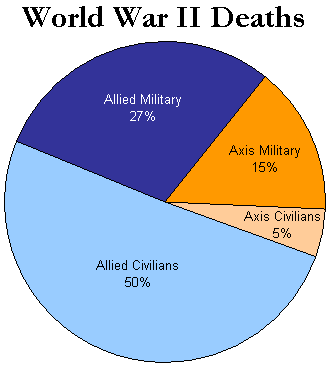 The 'Spirit of Cain' still continues!
"Woe to them! For they have gone the way of Cain." Jude 11.
"And why did he murder him? Because his works were evil and his brother's righteous…" 1 John 3:12
There is more to war than politics. The spiritual implications of war are rooted in the story of Cain.
Cain's disappointment and offence were primarily against God because He was the object of his offering or worship. Cain's anger was directed towards his brother Abel as a means of rebellion and incrimination against God. However, the most serious matter is how God views the shedding of the 'innocent blood.'
And He said, "What have you done? The voice of your brother's blood cries out to Me from the ground. So now you are cursed from the earth, which has opened its mouth to receive your brother's blood from your hand. When you till the ground, it shall no longer yield its strength to you. Gen 4:8-11
The satanic motivation in Cain to kill Abel was more than revenge – it was to bring a curse on himself and on the land. The cry to God for vengeance from 'the ground' which opened to receive the innocent blood has echoed throughout the history of war. Right now in Ukraine as many innocent civilians are killed, such bloodshed will have serious consequences for the future. Who is responsible for this?
Cleansing the Land from the guilt of 'Innocent Blood'
God considers the shedding of 'innocent blood' a serious matter. He demands justice and requires the cleansing of the land. Before any 'International Court of Justice' could hear the appeals for these people, God demands justice for this first.
God is indignant when innocent human lives are sacrificed to further selfish objectives in wars and conflict. The Earth was cursed for the second time since Adam's sin when Abel's blood was shed. History reveals that when nations had shed innocent blood there are deep demonic strongholds or curses which results in both spiritual and natural consequences – sometimes generationally.
During the reign of King David, the land of Israel suffered a famine due to the innocent bloodshed of Gibeonites by king Saul.
"Now there was a famine in the days of David for three years, year after year; and David inquired of the LORD. And the LORD answered, "It is because of Saul and his bloodthirsty house, because he killed the Gibeonites." 2 Samuel 21:1
Although David was innocent of this action, he suffered the consequences and had to seek God for healing.
Making Atonement for the Innocent Blood.
God has laid down a process to appease such crimes in Deuteronomy 21 and for cleansing of the land where the priests take responsibility to make atonement for the innocent slain.
"If one be found slain in the land which the Lord thy God giveth thee to possess it, lying in the field, and it be not known who hath slain him: Then thy elders and thy judges shall come forth, and they shall measure unto the cities which are round about him that is slain: Deut 21:1-2
It is noted that the Elders of the city and the Priests take responsibility to provide a special offering before God for the innocent blood. Likewise, the Intercessors today are those who serve the role of Priesthood to make atonement for such blood. Your prayer can make a difference in the outcome of this war!
6 And all the elders of that city nearest to the slain man shall wash their hands over the heifer whose neck was broken in the valley.7 Then they shall answer and say, "Our hands have not shed this blood, nor have our eyes seen it.8 Provide atonement, O LORD, for Your people Israel, whom You have redeemed, and do not lay innocent blood to the charge of Your people Israel.'
And atonement shall be provided on their behalf for the blood.9 So you shall put away the guilt of innocent blood from among you when you do what is right in the sight of the LORD. Duet 21:6-9
Jesus' Sacrifice as the Innocent Blood.
Today, the good news is that Jesus became the only 'sacrifice' who shed His 'innocent blood' to make atonement for the sins of all mankind. Further, His sacrifice provided for atonement for sins from Abel's blood crying out for justice up to now.
To Jesus the Mediator of the new covenant, and to the blood of sprinkling that speaks better things than that of Abel." Heb 12:24.
We praise God for the wonderful provision made by the Blood of Jesus so that we can make atonement for the Nations for them to be free from the curse and judgement resulting from innocent bloodshed.
Intercessors' Role in making Atonement.
The danger today is that despite who sheds the blood, the land will suffer consequences and both Russia and Ukraine, and other nations can suffer spiritually if such atonement is not made. Therefore, Intercessors are called to stand before God to make atonement for innocent bloodshed by praying:
"Be merciful, O Lord, unto thy people Israel, whom thou hast redeemed, and lay not innocent blood unto thy people of Israel's charge."
Your Prayer is standing in the gap between Death and Life and making intercession for the innocent civilians is very much needed now. Pray against the 'spirit of Cain' and stop the devil's plan to sacrifice innocent lives in Ukraine.
Pray for both Russian and Romanian Churches and Pastors to strengthen their unity and love and to bring atonement for their nations to overcome the demonic influences in their nation. It is noted that Ukraine has a history of being a strong Missionary nation and most of the Pentecostal Churches in Russia are pastored by Ukrainian Pastors.
Eventually, the Kingdom of God must prevail in both Nations!
Pause and Pray:
Pray that God will give wisdom to Leaders of Russia & Ukraine to negotiate to bring ceasefires to evacuate the civillians from combat areas.
That no more civillians will be injured or killed and that they will be protected from bombings.
Pray that God's presence will overrule the decisions of evil rulers and that Peace be restored back to Ukrainian people.
Pray against the demonic strongholds of war and bind the blood-thirsty demons which will cause innocent bloodshed.
Jesus Promised authority in prayer to bind and loose: "And I will give you the keys of the kingdom of heaven, and whatever you bind on earth will be bound in heaven, and whatever you loose on earth will be loosed in heaven." Mat 16:19
Ask God for forgiveness and cleansing from the 'guilt of the innocent blood' in Ukraine war.
"Be merciful, O Lord, unto thy people Israel, whom thou hast redeemed, and lay not innocent blood unto thy people of Israel's charge."
Plead the Power of the Blood of Jesus over the Nations bringing atonement to them.
Pray for Pastors and Churches in both Russia and Ukraine that they will model unity and reconcilliation. "Blessed are the peacemakers, For they shall be called sons of God."
Pray that God's Love will overcome all animosity between the nations.
"For this is the message that you heard from the beginning, that we should love one another, 12 not as Cain who was of the wicked one and murdered his brother. And why did he murder him? Because his works were evil and his brother's righteous." 1 John 3:11-12
Thank you for praying!
Sources and Pics: HIstory.com, DW.com, UN.com, Netcool.wordpress.com